2. Setting up your Wordpress website with Divi
There are many, many themes you can use to create a beautiful website, but the only theme I've used for over 4 years, over multiple domains, has been Divi from Elegant Themes. I personally use them, and recommend them to you because they don't require a knowledge of coding to setup, and it has a beautiful drag and drop interface that it easy to use.
In the video below, I'm going to show you how to go from having a new Wordpress installation to having a website that's finished and ready for your content!
Before you work on this video, you will need:
---
How to get the Divi theme from the Elegant Themes website
When you login to the member's area of Elegant Themes you will see a screen like this.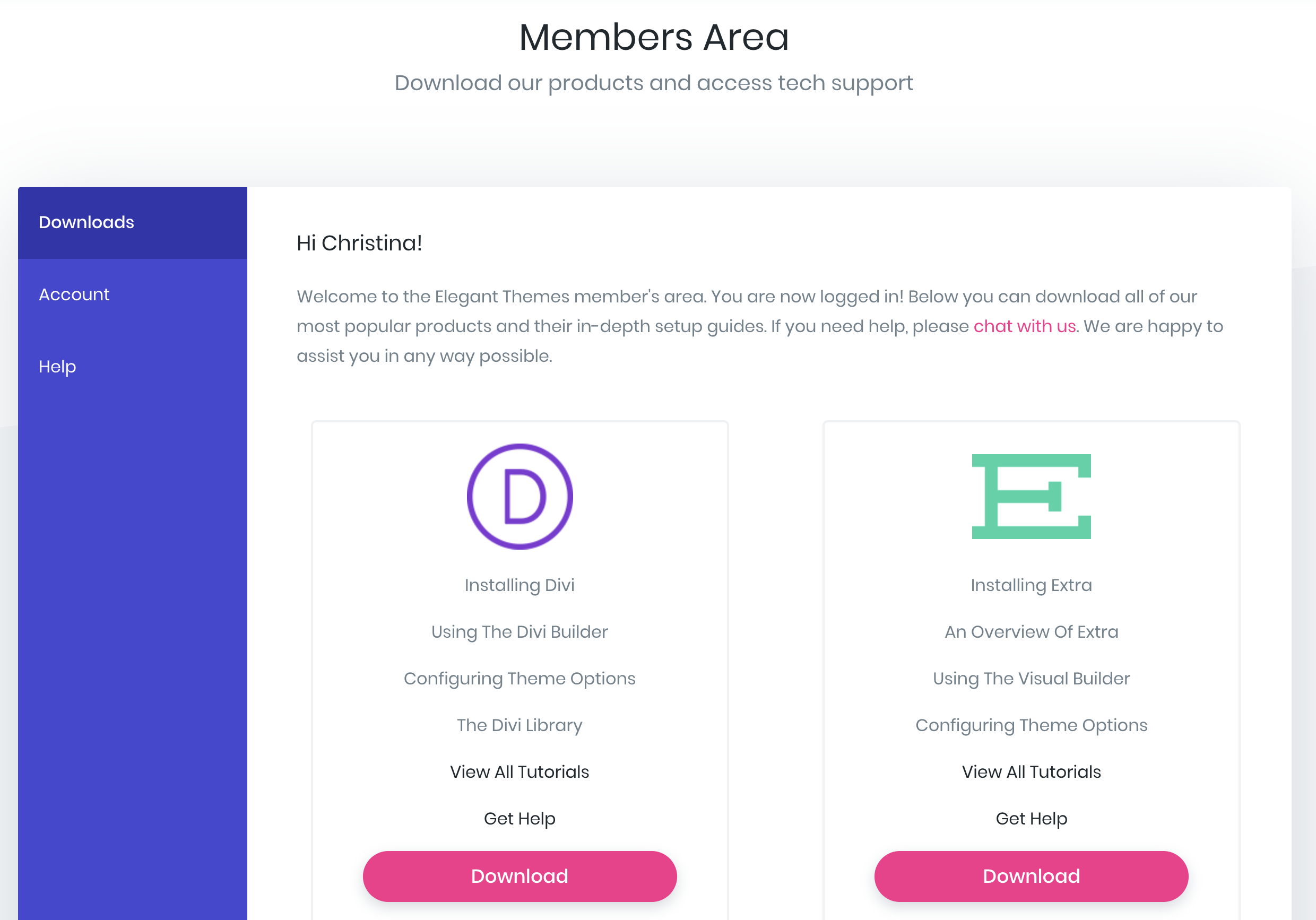 From there, you can click the Download button under the Divi theme, this will give you a file that says "Divi.zip" you do not need to unzip this file or open it, so leave it as it is. We'll upload this straight to your website as it is.
---
Uploading and activating your theme to your website
Once you've got your theme file, it's time to upload it to your website and activate it so you can use it!
Login to your website. With a Wordpress website hosted, you can usually visit example.com/wp-admin (replacing example.com with your website) to login with the username and password you setup with Godaddy when you setup your domain. You can also visit this link to take you to your Managed Wordpress dashboard, and select the three dots to the right of your domain, and select "WP Admin" to take you to the correct page on your website.

When you get logged in, you'll be in your main dashboard, also called the backend of your website. Hover over the sidebar on the left side and you'll see a menu that says "Appearance" then you'll be able to choose "Themes"
At the top of the Themes page, click the ADD NEW button, then on the next page in the same spot click the UPLOAD THEME button. This is the page where we'll upload your Divi theme file we downloaded from Elegant Themes.
It should look something like this.

When you return to the Themes page, you'll be able to activate Divi so it's live on your website. Now, the part begins, customizing your website to make it yours.
Complete and Continue